At-A-Glance
Investors
At-A-Glance
From 2010 to 2014, Altria delivered total shareholder return of 230 percent, which far outperformed the S&P 500. Altria has increased its dividend 49 times in 46 years.* Our operating companies have also delivered earnings growth by focusing on four strong premium brands, Marlboro, Copenhagen, Skoal and Black & Mild.
*Dividends are declared and approved only at the discretion of the Board of Directors.
Ticker
Comparison
Separate multiple
tickers with
commas(,)

Time Frame


Index Comparison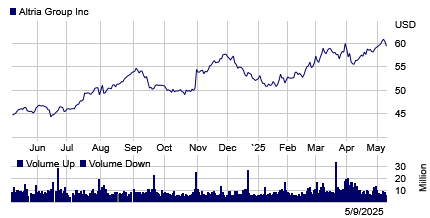 NOTE: The stock price performance shown on the quote on this page is not necessarily indicative of future price performance. Quotes delayed at least 15 minutes. Market data provided by Interactive Data.